This post is primarly for people living in The Netherlands. It announces the exhibition "Many faces from Myanmar" in the town hall of Bemmel, a town in the East of The Netherlands.
Gisteren hard bezig geweest met de inrichting van de foto-tentoonstelling in het Gemeentekantoor van Bemmel. Vanaf 04 maart tot 19 april 2013 kunnen jullie daar kijken naar mijn foto's onder de noemer "Vele gezichten van Myanmar". De werken zijn in acryl, liquid gloss en canvas en de meeste in het formaat 60 x 90 cm. Ik heb één van de bijzondere gebruiken van Myanmar samengevat in een 9-luik. Het gaat om het gebruik van Thanakha creme op het gezicht als schoonheidsmiddel, tegen insecten/verontreiniging en tegen de zon.
In deze post presenteer ik:
– de aankondiging (flyer)
– een aantal wanden met het werk
– het 9-luik met een drietal aparte afbeeldingen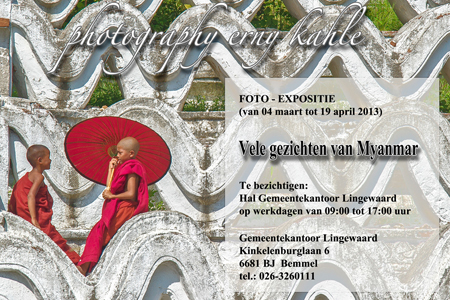 Flyer met op de achterkant een korte beschrijving van het waarom van het
accent op Myanamar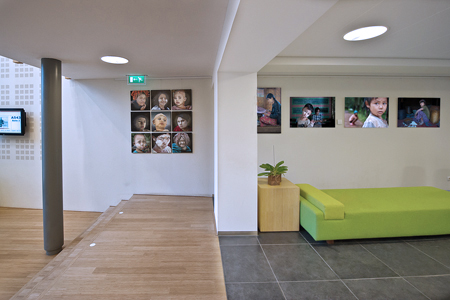 Wand met 9-luik en een 4-tal acryl platen met mensen van Myanmar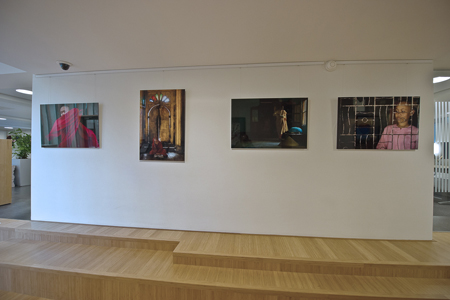 Monniken (in het rood) en nonnen (in het roze) op acryl met d-bond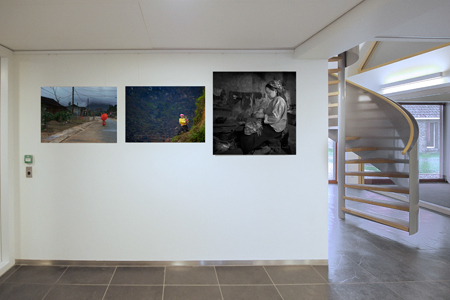 Algemene afbeeldingen op liquid gloss (speciaal gietprocede over de foto)
en een zwart/wit foto van 90 x 90 cm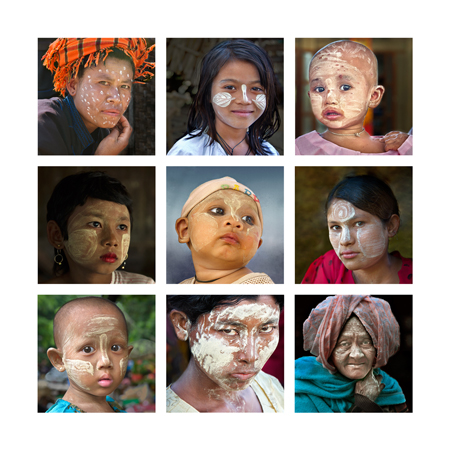 Negen gezichten van jong en oud en van jongens en meisjes/vrouwen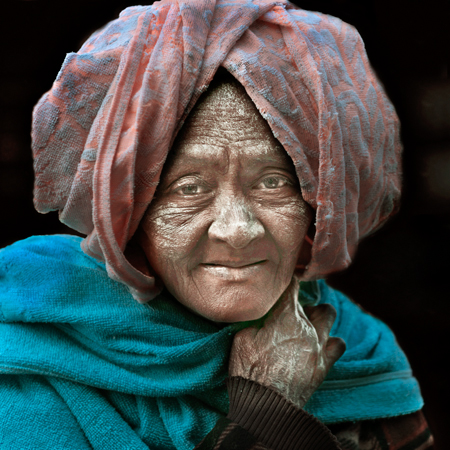 Een oudere vrouw op de markt van Loikow (bij het Inle Lake)

Vrouw van de Shan minderheid op een markt

Kindje (in het roze dus een meisje) tijdens een initiatie proces voor de kennis-
making met het kloosterleven. Heeft ze de waterpokken?